The Cultured Stoners installed this granite stone veneer fireplace in Haliburton, Ontario. It looks like natural stone because it is! This is actual real granite that has been sliced thin (approximately 1 to 1 1/2 inches thick). You might think this material requires reinforcement of floors and foundations when in fact this product really doesn't weight much more than any manufactured stone product that you can buy. We install all types of manufactured stone and granite stone veneer in cottages including granite veneers for fireplaces as well as accent walls and exterior walls in Muskoka, Parry Sound, Collingwood, and Haliburton.
On this particular job the clients wanted the look of real granite but did not have the foundation support to build a fireplace with full sized granite pieces. The easy solution was to use a real granite stone veneer. This product is actually a thin slices of granite which we then adhere to the wall using traditional masonry methods for all stone veneer products. There are many different manufacturers of natural stone veneer products, many of them being Canadian owned and operated. The cost per square foot is comparable to other manufactured stone products and is available at many of the stone yards in Central Ontario. The above link is just one example of the many stone companies with many varieties to chose from.
This granite stone veneer fireplace brought the look of the natural stone surrounding this cottage into the living space to enhance the warmth and beauty of this impressive lake side home. You can contact us at any time at 705 794-6759 or email [email protected] to receive a no obligation quote on how to add real value to your home and enhance its warmth and charm for many years to come.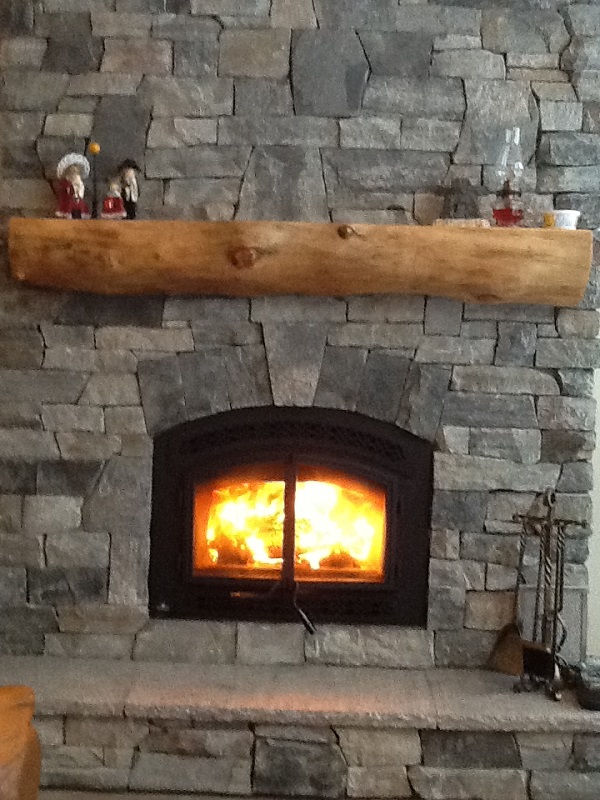 Granite stone veneer fireplace that ads warmth and charm to this beautiful lakeside home in Haliburton Ontario.
Granite stone veneer is an amazing product that allows you to use real stone without the weight associated with real granite. There is no need for costly reinforcements of floors and foundations because granite veneer adheres directly to the wall in much the same way as manufactured stone.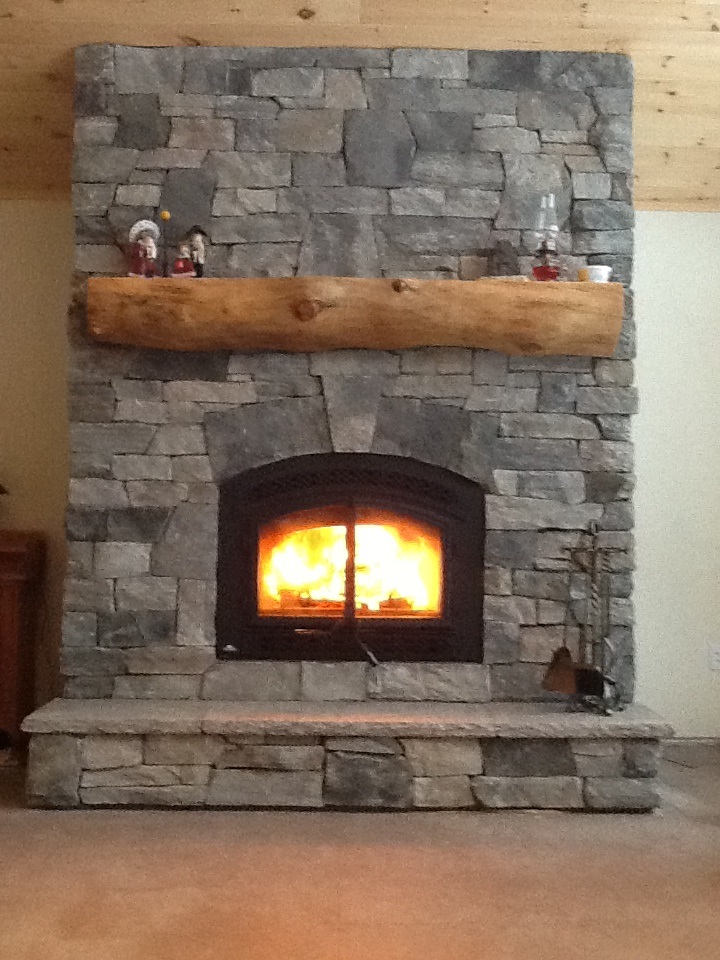 This sequence of photos show the fireplace in three phases of completion: before, during and finally after the installation of granite stone veneer to this
Napoleon
fireplace.